The design community is embracing additive manufacturing for tasks such as prototyping and even fabricating products. But as designers seek to do more with the technology, its current limits are becoming apparent. On many wish lists are the capacity to print objects larger than existing print beds; the availability of affordable and resilient extrusion materials; and the ability to integrate components such as circuitry and sensors to turn gadgets into interactive products.
At the International Consumer Electronics Show (CES) held this week in Las Vegas, we got a look at some of those improvements. But first, a disclaimer: For all its hype, the market for consumer-grade 3D printers (the stuff on display at CES and that has found its way into schools, libraries, and even some design studios) is relatively small. In October, Gartner forecast worldwide 3D-printer shipments for 2015 to surpass 217,000 units, with consumer printers comprising a small portion of that total. The still-small consumer market remains that way in part due to common downsides among that class of printers including high failure rates, low resolution quality, slow production time, and a limited material selection.
"Most of the materials we can print with today are really not good enough for the things we want to use them for," said Autodesk CEO Carl Bass in a talk Wednesday.
At CES, a selection of hardware and software developers showed how they're upgrading their products to meet the needs of non-industrial-scale designers and fabricators using 3D-printing technology.
Last year, we reported on the introduction of a consumer-scale 3D printer from a team of Somerville, Mass.–based engineers that can print continuous strands of carbon-fiber, fiberglass, and Kevlar to reinforce plastic prints. MarkForged's Mark One achieves the unique functionality from the two print heads that automatically switch on and off during printing to blend nylon and fiber filaments into objects that the company says are stronger by weight than CNC-milled aluminum. The sleek desktop unit offers a build area of 412 cubic inches, while the printer itself seems designed for display with a minimalist aluminum body, rounded front edges, and a transparent enclosure.
At CES, the MarkForged team introduced its Cloud-based modeling software, Eiger. Through the Web application, users can upload and modify CAD models on a Google Chrome browser and output them as .STL files directly to the MarkOne printer for fabrication. The company also announced the ability to embed functional electronics and metal structures within parts printed by the MarkOne during the printing process.
Applications cited for products fabricated using the printer include architectural connectors, hand tools with integrated sensors that measure torque, and custom orthotics, the latter of which founder Greg Mark says is the biggest potential market so far. By giving consumers a means (albeit an expensive one at $5,499 for a single unit) to print with materials that offer greater resilience and properties such as ultra-light weight and enhanced flexibility, MarkForged's model is a step toward making 3D printing a real tool for creating responsive and interactive products.
Autodesk, too, used CES to show off its ability to print circuitry and embed components. Project Wire, a collaboration between the software developer and the Somerville, Mass.–based startup Voxel8, uses Autodesk's Spark open-source printing platform and Voxel8's forthcoming 3D printer that extrudes conductive silver metal to print circuits. The team used a mini-drone to showcase the technology at CES, but says it's a fit for any 3D-printable products that require embedded electronics.
In his talk, Autodesk's Bass made the case for technologies like Project Wire, transforming consumer 3D printing into a means of creating complete products rather than simply a tool to visualize their form. He also said that Autodesk's new 3D printer, Ember, will offer open-source hardware and software to encourage the exploration of new printing materials.
"We're approaching a world where we can custom-design materials for the specific task at hand," Bass said, noting ready access to computing power for harnessing generative design in fabricating highly efficient, bespoke products.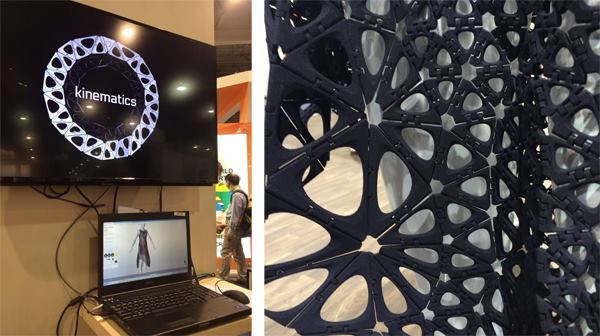 Design studio Nervous System brought the second iteration of its 4D-printed nylon Kinematics dress to the show, which studio co-founder Jesse Louis-Rosenberg says took 44 hours to print in a folded rectangle measuring nearly 20 inches both wide and long and 8 inches deep. When unfurled, the dress hangs loosely and swishes with movement, thanks to a system of integrated, flexible connectors.
Rosenberg and co-founder Jessica Rosenkrantz say that while the studio is interested in a lockable joint that could render the system rigid, opening up the Kinematics technology for use in larger-scale applications isn't the goal just yet. "It could easily become something more than a dress in the future, [but I'm] not sure what it will be," co-founder Jessica Rosenkrantz says. The dress and similar jewelry can be designed and visualized on the studio's website, but only the latter is available for purchase.
MakerBot didn't debut any new equipment at CES, but the company did announce plans to release new PLA composite limestone, iron, bronze, and maple filaments later this year and showcased the materials' potential at its booth. The composites, which will each come with their own extruder, allow products to take on the look (and some of the performance characteristics) of the organic materials, and they can be finished to create a slightly more functional prototype.
Despite his frank talk on the limits of the market for at-home 3D printers, Bass appeared bullish on opportunities for 3D-printing service providers.
WhiteClouds, an industrial-grade professional 3D printing service from South Ogden, Utah, showcased its colorful building models and figurines printed in a sandstone-based resin, which allows for fine-tuned details and color gradation. Because WhiteClouds is a professional service, it can print faster and output better-quality prints than could a consumer printer, but their models average in price from $800 and $1,200 for a typical 12-inch-long by 9-inch-wide version.
Not all extrusion-material introductions at the show were meant for heavy use or even for display. The CocoJet printer, a much-hyped project of 3D Systems and The Hershey Company that was unveiled at CES, is designed to print in a substance that's much less durable than the likes of carbon fiber but (we imagine) infinitely more delicious: chocolate.