Spruce up modest doors and cabinets with these eye-catching knobs and pulls, which use natural materials, surface textures, and novel forms.
Square One, Contemporary Pull
Launched in March, Contemporary Pull's modern-styled inaugural hardware line is made from aluminum and is installed in a custom recess that allows the pulls to mount flush with the cabinet door or drawer. The line includes four geometric profiles, including Square One (shown), that are offered in natural, ebony, bronze, Bordeaux, peacock, and canary colored finishes.
Europa, Top Knobs
This minimalist series joins the company's Mercer Collection and includes a knob and four pull tabs with a cut-out option for additional detail. Europa's metallic finishes include brushed satin nickel, polished chrome, sable, and umbrio. The pulls attach to the inside of the drawer and are are offered in seven widths from 1-3/4" to 12"; the cut-out pull is offered in three widths from 3-3/4" to 6".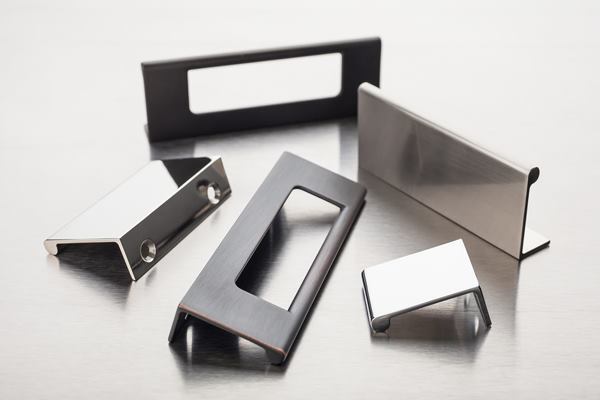 Ring, Philip Watts Design
While most pulls and knobs are squared or rounded to fit comfortably in-hand, U.K.-based designer Philip Watts' Ring series of door and cabinet handles have circular geometries with a textured surface. Available in 135mm, 220mm, and 320mm diameters, the pieces can make a statement when installed solo or together (shown). Aluminum, bronze, and brass finishes amplify their distressed look.
Leather pulls, Turnstyle
Offered in square and barrel dimensions, Turnstyle's series of offset leather pullsweaetxdyvaydzcwq adds dimension and a grip to interior swing and sliding doors. The pulls are offered with a range of leathers, stitching, and metal finishes. Available in 200mm, 300mm, and 400mm lengths, and with or without a mounting back plate.
Argyle, Du Verre
Du Verre co-founder Gina Lubin used the diamond shape prevalent in the Scottish argyle design when crafting this collection of knobs and pulls. Argyle is made from recycled aluminum and is offered as a round and a square knob, a 5-3/4" pull, and a 9" pull. Reflective oil-rubbed bronze, antique brass, and satin nickel finishes draw out subtle variations within each metallic hue to create a patterned effect.
GeoMetek, Rockwood Manufacturing
Glass doors in residential and commercial entryways and interior spaces, such as offices, often require locks that are secure as well as streamlined in design. The rectilinear GeoMetek is a key-operated architectural pull that offers three locking options: floor, head, or both. Half-height pulls have two drilled holes for installation and full-height ones have three holes; available lengths span 45' to 118'. Bronze, stainless steel, and satin stainless steel finishes pair with glass as well as aluminum and wood doors for an industrial look.