Could future flooring design make the surfaces under our feet—currently static surfaces that are literally overlooked and frequent subject to a daily beating from our feet—an active element in our daily lives? Consider the possibilities: Say you were at the airport, awaiting a flight, only to see your smartphone run out of juice right before boarding, taking your mobile boarding pass with it? Do you frantically search for an outlet, fighting off other passengers for a plug and crouch on the ground for a few minutes trying to grab a bit of power? Run to a service desk to try and print out a paper pass? What if you could simply hit a button on your phone and have it wirelessly charge via an electrical charger embedded in a nearby carpet tile?
Or, what if the flooring in your home contained a computer interface that interacted with you when you arrived home, welcoming you home, giving you messages, or telling your children to do their homework when they come in after school? What if the surface in your gym could recognize you and provide a workout plan along with some motivation that follows you as you move through the machines?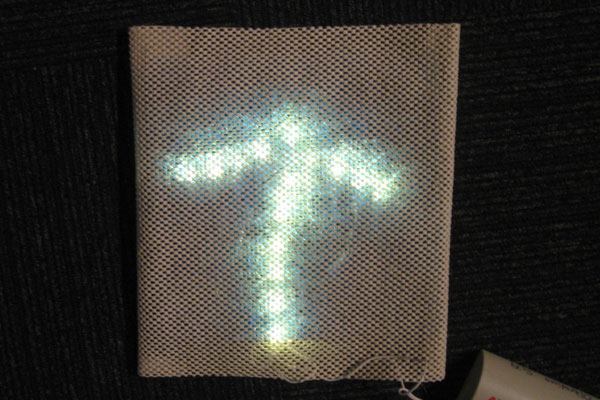 Could your flooring improve your health? What if carpet tiles could be swapped in and out with easy-to-maintain indoor gardens to provide visual intrigue while helping to clean the air in your home or office?
These three scenarios could be in our future, according to a group of architecture and engineering students at the University of Pennsylvania. Under the guidance of Jordan Goldstein, AIA, principal and a managing director of Gensler's Washington, D.C., office, three teams of graduate students have spent the past semester exploring the next generation of sustainable flooring in conjunction with carpet giant Interface. The three scenarios above were presented as part of their final presentations last week in Philadelphia during a critique for which I served as a juror.
For the past five years, Goldstein's class, which is offered each fall, pairs students with a building product manufacturer to explore the nuances of product design and development on macro and micro levels, from conceptualization and establishing project goals and constraints, through market and user experience analysis to manufacturing and marketing. The students also learn how to work in a group to mature an idea from ideation through production, with hands-on experience in sharing ownership, a concept Goldstein believes is key in day-to-day professional practice.
This fall, 14 students partnered with Interface to explore a central question: What is the next generation of floor surfaces? Throughout the semester, the class met with Interface executives to learn about the company's mission (which puts a strong emphasis on sustainability through their Mission Zero initiative), travelling to a mill in LaGrange, Ga., as well as the D.C. and New York showrooms. They conducted market analyses and focus groups, identifying user needs and examining ideas for feasibility in terms of time, cost, and materials.
So what's next for flooring? Consider the proposals below:

Off the Wall: Flooring as a power source. Capitalizing on the growing use of mobile devices and how it is changing behavior, one group looking into ways to make power access more flexible, taking people away from traditional perimeter plug zones while benefiting from growing wireless technology. Their solution: carpet tiles that carry an integrated induction charger that is visually noted by an embedded LED light. The vision is that in the future mobile devices will come with embedded wireless receivers (with adapters available for older devices) that would allow them to connect to an electrical charge remotely, eliminating the current use of power cords that ties people to static outlets. "Power is a universal problem and this is a universal solution," noted Chip DeGrace, senior vice president of creative for FLOR. "It moves flooring from a finish that is selected to being part of the infrastructure, which allows people to think about carpet earlier on in the design process." An added bonus proposed: Reducing the amount of underfloor electrical cabling as the power source would be wired through in the carpet tiles themselves.

Living Room: Flooring as a dynamic element of the home that addresses comfort and health. In a twist on urban agriculture that also capitalizes on the growing relationship between human health and our built environments, a second group in the class took the modular aspect of carpet tile and used it to create a living insert in the form of a small-scale indoor garden. Could these gardens provide nature indoors and help absorb pollutants? Crafting an 18-in. by 18-in. tile frame that mirrors the dimensions of a standard FLOR tile, the Living Room system features a removable inner structural tray made up of 18 hexagonal compartments. Each compartment would then house a non-toxic, dual gel and seed pouch that dissolves in water to grow one of six species of low-maintenance vegetation. Could the area rug of the future be a miniature indoor field of grass? "There's an interesting connection to biophilia here," said Jennifer Busch, vice president of A&D market development at Interface. "It could also be vertical element, connecting to moments of horizontal elements."

Light It Up: Flooring as the new iPhone and iPad. In perhaps the most forward-reaching project of the three presented, the third team of students questioned how the floor can become an interactive digital display, featuring customized messaging or entertainment. Could a receptor in a floor tile connect with a mobile device to help you navigate through an airport, by lighting up a pathway to follow? Could floor tiles register retail visitors via integrated pressure sensors and catalogue that data for a store owner, to track daily traffic and which displays draw the most shoppers? Could your welcome mat become a digital interface that recognizes an entrant to welcome them home or remind them to clean their room and do their homework? "Activating the floor and making it an intelligent surface is intriguing from a very futuristic standpoint," Busch said.