There's a new player in the small but growing market for prefabricated Passive House construction in the U.S. Announced on Monday, the Searsmont, Maine–based high-performance building manufacturer Ecocor is teaming up with Milford, Pa.–based architecture firm Richard Pedranti Architect (RPA) to design, build, and assemble single-family homes built to the Passive House Institute (PHI) and Passive House Institute US (PHIUS) standards. The designs will use the only PHI-certified wall assembly in North America.
Ecocor and RPA will begin by offering 11 house plans (shown below), ranging from a 323-square-foot cabin to a 2,685-square-foot single-family home. RPA will provide architectural services to clients looking to modify or otherwise customize the base models—adding interior or exterior finishes and fittings, for example—and it will work with prospective clients to design custom Passive Houses through Ecocor. All of the Passive Houses produced will be certified by both the PHI and the PHIUS.
The partnership joins a handful of other design-build companies in the U.S. currently making factory-built homes that meet the rigorous Passive House standards—which originated in Europe and were recently modified to accommodate the wider variations in the North American climate—or other stringent net-zero requirements, including Go Logic Homes, in Belfast, Maine, and the net-zero Blu Homes, in Vallejo, Calif.
"We have produced prefabricated passive houses before, from the design phase through completion, but we realize that it was too much," Ecocor founder and technical director Chris Corson said in an email. "This partnership with RPA allows Ecocor to concentrate on our expertise, constructing passive houses, and [Pedranti] to concentrate on his expertise, designing Passive Houses."
Ecocor uses semi-automated equipment to fabricate panelized walls, floors, and other elements of its patent-bending building assembly. The assemblies comprise the foundation and its insulation; the shape and geometry of the sub-slab; the perimeter insulation system for water, thermal, air, and vapor control; R-58 wall insulation; and the load-bearing wall component with shop-installed windows and siding. As with typical factory-made homes, BIM software is used to send instructions to Ecocor's fabrication machines to fashion the components of the airtight wall panels, which are subsequently assembled and shipped directly to the jobsite.
"The tremendous advantage of pre-fab is that the hard parts of building a high-quality building are taken out of the field," Pendranti says. "Now we're building things in a controlled environment. For me this is such a home run to be able to deliver a home much quicker [than a typical custom home] and very high quality, but also meeting the Passive House standard."
The homes' wall design and insulation will be the same in all climate zones, while the slab and roof insulation levels will be climate-specific. The panel dimensions that determine the exterior configuration and the window locations will be fixed for each base model home. The layout of the interior partitions and the interior and exterior finishes, however, can be customized to client specifications.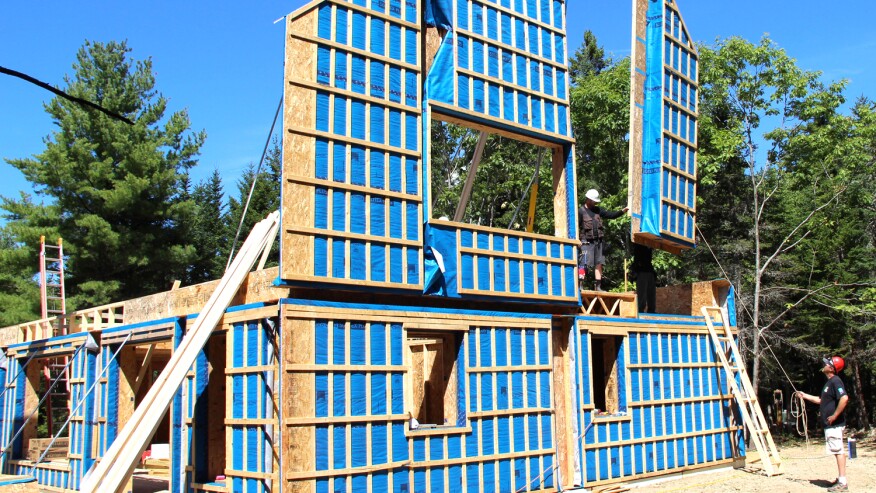 Pedranti, a certified Passive House consultant, builder, and HERS (Home Energy Rating System) rater, has been designing and building Passive Houses around the Mid-Atlantic since 2012. While the inroad for Passive House construction in the U.S. is primarily with single-family homes, Pedranti sees opportunities for Passive House construction in the multifamily space, too. However, there are still challenges to overcome. Among them, he says, are: communicating the value of Passive House construction to potential clients (comfort and lower energy bills); re-training the builders and contractors he works with to understand and execute Passive House design; and, of course, educating himself.
"I spent eight years in architecture school and didn't know a thing about building science when I graduated, so I've had to re-train myself to understand the physics of building and have found it to be completely enlightening and rewarding," Pedranti says. "But also I think the exciting thing [is that building science] offers aesthetic opportunities. Buildings that are designed well, to be comfortable and healthy and be passive and consume less energy, look different. I feel like I've just begun a whole new journey as an architect in exploring the aesthetics of building physics."