When The New Yorker's music critic, Alex Ross, visited the Marlboro Music Festival in 2009, he wrote that it is "an enchanting place, but, in the end, there is nothing especially remarkable about it." He was writing, in part, about the environs—the modest farmhouses that comprise Marlboro College in southern Vermont. The annual festival has been held there since 1951 and has acquired a near-mythic status among classical musicians for fostering talent with a seven-week residency. With the addition of five cottages crafted by design principal Joan Soranno, FAIA, of Minneapolis-based HGA, the place itself is now worth noting.
Each summer, 80 musicians spend time here in the foothills of the Green Mountains, with shared meals in the college cafeteria and an eclectic set of living arrangements: Junior musicians live in the college dorms while more senior musicians live in cabins and cottages both on and off campus. The festival leases the entire complex—as well as off-campus homes—for the duration, and it's only with this new construction that the Philadelphia-based group owns facilities on site.
Rural zoning on the 15-acre property allowed for only five cottages. Soranno, along with project architect John Cook, FAIA, chose to tread lightly on the land, using an existing logging road through the property for access and organization. The landscape was designed with an eye toward sustaining native species.
The cottages play on the 400-year-old Cape Cod typology, which features low sidewalls (a mere 7 feet tall) and steeply raked roofs. "We decided to use those classic proportions," Soranno says, "but put a contemporary spin on the interiors and detailing." There are three distinct configurations at Marlboro: one 1,445-square-foot cottage with two bedrooms, three 1,620-square-foot with three bedrooms, and one 2,335-square-foot with four-bedrooms. The last is shared dormitory-style by several musicians while the others are for individual musicians and their families.
A simple palette of local materials—stained cedar cladding, white pine interior walls and ceilings, and slate floors—is rendered in natural finishes and with an almost compulsive lack of detail. Window and door casings—in fact, all trim—are verboten. And while the presences of chimneys is a nod to the vernacular, they don't connect to fireplaces—instead, they conceal plumbing vents and boiler stacks.
"There's a modest spirit about Marlboro," Soranno says. "Nothing is flashy or showy." Her team has met that standard with the cottages—a grace note that elevates, but doesn't distract from, the campus.
---
Drawings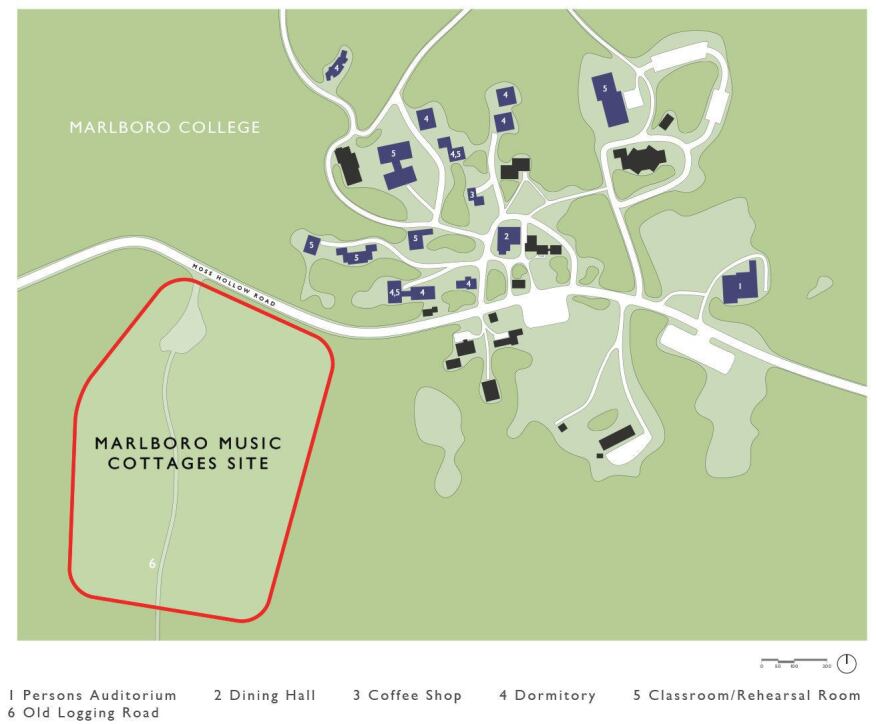 ---
Project Credits
Project: Marlboro Music: Five Cottages, Marlboro, Vt.
Client: Marlboro Music
Architect: HGA, Minneapolis . Dan Avchen, FAIA (principal-in-charge); Joan M. Soranno, FAIA (design principal); John Cook, FAIA (project manager/project architect); Doug Gerlach, AIA (project designer); Rich Bonnin, Ariane Laxo (interior designers)
Mechanical/Electrical/Structural Engineer/Lighting Designer: HGA
Civil Engineer/Landscape Architect: CHA
General Contractor: Courtlan Construction
Size: 11,477 gross square feet (for all five cottages)
Cost: $3,026,301
---
Materials and Sources
Appliances: Sub-Zero; Kitchen Aid; Miele; Whirlpool
Bathroom Fixtures: Kohler; Hansgrohe
Flooring: Vermont Structural Slate Co.
HVAC: Warmboard Radiant Subfloor
Kitchen Fixtures: Hansgrohe; Mockett; Blanco
Lighting: Flos; Winona Lighting; Stonco; Bega; USAI; Haworth; Blu-Dot; Artemide; Tom Rossau
Metal: Rheinzink
Windows: Marvin Windows and Doors