ARCHITECT is counting down the days to the 2013 AIA National Convention. Every day that passes until Convention arrives, look here for a new reason to attend—from speakers and tours and sessions to continuing-education opportunities to the greatest features of the Mile High City. Register now for the Convention on June 20–22.
01. Go for the people.

The freshest AIA Honor Award has to be the Young Architect Awards, for the promise, energy, and perspective that new people bring to the field. Being exposed to new ideas has to be the best reason to be in Denver this week. Not just the young architects but all the people you meet. Networking is just too short and too dismissive a term for what happens when people get together to reconsider their careers, think about new objectives, and talk about the leadership field. Breathe in that mountain air, then go talk to someone and make something happen!
02. Go for the win.

There is a broad conversation taking place in the field—about leadership, about success, about what it means to recognize talent. This year, the top two awards in American architecture go to Thom Mayneweaetxdyvaydzcwq, FAIA, and to Tod Williams Billie Tsien Architects. One award recognizes a singular vision in design, while the other acknowledges the top firm working today. Both awardees have watched signature projects undergo big changes this year. Mayne's 41 Cooper Square has illustrated numerous stories on the ongoing crisis at Cooper Union, a symbol for boundless possibility and a reminder of what we owe to young architects. The Tod Williams Billie Tsien Architects–designed former American Folk Art Museum received an eleventh-hour reprieve from the Museum of Modern Art, after many inside and outside the field of architecture asked museum leaders to reconsider its decision to raze the building. It may be the triumphs that garner a firm its medals, but it's the challenges that test a firm's mettle. The 2013 AIA Gold Medal winner and AIA Firm of the Year have both proven themselves, even at a time when it's worth asking what it means for an architect—or architects, or firms—to do that.
03. Go for the new stuff.
Aaron Betsky visited the Clyfford Still Museum, designed by Denver/Allied Works Architecture, just after it opened in 2011. Betsky called the museum a "a marker to the presence of art, a container for light and image, and a moment of art in the middle of America." A majority of the attendants at the 2013 AIA National Convention may not have yet seen the museum, so you can bet that it will be a popular destination during tours and off-hours.
04. Go for the students.

In 2010, students at the University of Colorado Denver's Design Build Program worked with Studio H:T to build a Learning Cube and Dairy House, additions for a working farm. Last year, they worked with Denver Water and the Audubon Society of Colorado on a bird-banding pavilion. Architects involved in education and pro-bono should consider reaching out to the university to discuss its use of design/build as a philanthropic strategy.
05. Go for the art museums.

It can't take much convincing to get the lot of you to go visit the Denver Art Museum by Daniel Libeskind, AIA, and the Museum of Contemporary Art Denver by Adjaye Associates. If you need a refresher on the former, check out what Libeskind had to say about this project and others at the ARCHITECT 50 Leadership Labweaetxdyvaydzcwq last October.
06. Go for the library.

Not only is it the largest library in the West (between Los Angeles and Chicago, anyway), the Denver Central Library by Michael Graves & Associates is one of the firm's greatest U.S. projects, rivaled only by the Portland Building and the Humana Building. Library design is always changing: Just look at the 2013 AIA/ALA Library Building Awards to get a sense of where things are going. It's wonderful to see a classic that still serves its community.
07. Go for Red Rocks.

One of the best amphitheaters in the nation and certainly the most beautiful. Now, depending on your tastes, you may choose to beeline from the keynote addresses (see below) and preliminary events out to Red Rocks to catch either Barenaked Ladies (Wednesday), the "Ultimate Thriller Michael Jackson Tribute Concert" (Friday), or O.A.R. (Saturday). Even if those bands aren't your thing, Red Rocks Park is worth a visit, and it's the most accessible rocky park from metro Denver.
08. Go for the keynotes.

Toms founder Blake Mycoskie, Architecture for Humanity co-founder Cameron Sinclair, and former U.S. Secretary of State General Colin L. Powell, USA (Ret.) will deliver the addresses at the Convention. On Thursday, humanitarian and entrepreneur Mycoskie will open proceedings by describing his vision of "conscious capitalism" (best exemplified by the two million pairs of new shoes that his company has delivered to children in need). Sinclair needs no introduction: He will describe his continuing project (with co-founder Kate Stohr) to push people in the field to "design like you give a damn." On Saturday, Gen. Powell, who is the founder of the Colin L. Powell Center for Leadership and Service as well as the founder of the America's Promise Alliance, will close the convention with a talk on leadership.
09. Go for the transit.

As David Hill explains in the May issue of ARCHITECT, SOM and Hargreaves Associates are planning a restoration for Denver's 1914 Beaux-Arts–style Union Station. This year's convention comes too early, of course, for participants to see all those changes. But given the number of aging infrastructure projects across the U.S., it might behoove architects to see how one city is trying to turn the trend around.
10. Go for the rafting!
Put down the AutoCAD and slip out for some white-water rafting. On Wednesday, June 19, at 10 a.m., you can join a rafting tour of Denver's Idaho Springs Clear Creek Canyon. (Sadly, there are no LUs available for this tour.)
11. Go for the green.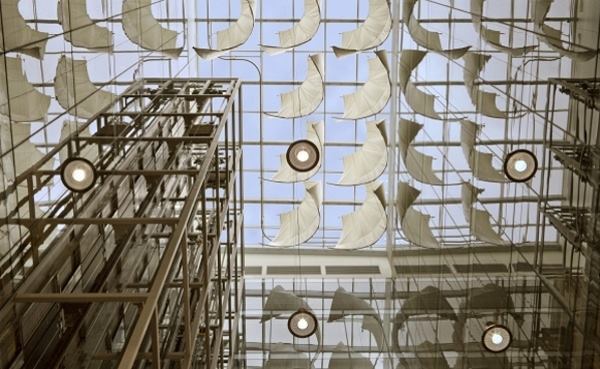 The U.S. Environmental Protection Agency's Region 8 headquarters building in Denver, designed by Zimmer Gunsul Frasca Architects, features a glass atrium filled with sails, which promote daylighting throughout the office. The sails both diffuse sunlight inside the space while also deflecting glare and neutralizing heat.
12. Go for the bridge.
Designed by Arup, the Denver Millennium Bridge is the world's first cable-stayed bridge that employs post-tensioned structural construction—and is a Flickr favorite to boot. The bridge's central steel mast rises 200 feet into the air, while the bridge's deck spans 130 feet to connect Denver's 16th Street Mall to Commons Park near Union Station.
13. Go for the classics.

Two of the most distinctive buildings on the Denver skyline are the Republic Plaza tower (pictured in background), designed by SOM and presently the tallest building in the Rocky Mountain region, and the Wells Fargo Center tower (pictured in foreground), designed by Philip Johnson and known colloquially as the Cash Register. The latter—which is also called the Mailbox—is special for two reasons. One, it has its own Zip code (80274). Two, it was originally designed for Texas, so heating elements had to be added to the structure to prevent snow from accumulating on and sliding off the sloping roof.
14. Go for the airport.

Denver International Airport is one of the nation's greatest transit centers of any kind. The structure's fabric roof promotes daylighting while reducing heat buildup—and it looks kinda nice against the Rockies to boot. The fact that Fentress Architects has built five airports since 2001 will make perfect sense after strolling through the 2 million square feet of terminal space in the firm's first airport, built in 1995.
15. Go for the credits.
Compared to all the other reasons to attend Denver, continuing education is a portion of vegetables—delicious, necessary, good for you. There's a heaping helping of continuing education credits up for the taking at the 2013 AIA National Convention: more than 200 education seminars, workshops, and tours. This year, you can register in advance for seminars and ensure your opportunity to earn learning units (LU or HSW/LU). AIA Colorado has organized more than 40 educational tours across Mile High City. New in 2013: Architects aren't required to earn credits in sustainable design, so there's no courses marked "SD"; and the AIA and NCARB are working together to make sure that HSW courses satisfy the requirements set by both organizations.
Architects can acquire credits even before convention begins: On Wednesday, June 19, attendees can pick up 3.75 LUs for half-day attendance or 7.5 LUs for full-day attendance at pre-convention workshops. There's even something for people who (despite all their best efforts, no doubt) cannot make it to Denver: more than 10 hours of continuing education courses streaming live from the Colorado Convention Center.
16. Go for the loading docks?
If loading docks are your thing, I don't need to tell you twice. But even if they're not, you may want to swing by the Denver Museum of Nature & Science specifically to see the building's new north annex, the winner of a 2012 AIA Denver Honor Award. Designed by Denver-based firm Humphries Poli Architects, the north loading dock features recycled concrete floors, a copper-skinned exterior, and abundant natural daylight.
17. Go for the convention center.
The Colorado Convention Center is one of the largest LEED-certified convention centers in the nation, following an expansion by Fentress Architects in 2004 that doubled the building's size. This is no easy feat, as Darren Johnston explained for ARCHITECT in 2011. Convention centers are simply difficult to certify: "[H]uge buildings with large staffs, third-party vendors, and flexible spaces. As a result, some credits require significant amounts of time to pursue and coordinate. Purchasing credits, for example, require examining all purchases made in a single category and can be very time consuming in a center where these items number over 1,000 per month."
18. Go for Chipotle.

Steve Ells opened the first Chipotle restaurant on the edge of Denver University's campus in 1993. Ells brought on the architect Brand Gould to develop the look for the second location, as ARCHITECT contributor Amanda Kolson Hurlsey explained back in 2007. Twenty years after the first store opened, the chain still uses many of the same signature design touches—birch alongside corrugated and stainless steel—though these days it employs many more architects.
19. Go for the solstice.

To be fair, it will be summer solstice on June 21 no matter where you are. But you could do worse than to spend the longest day of the year in a city with Denver's sunsets.
20. Go for the human services.
The Eastside Human Services building by Denver-based RNL won a 2012 AIA Denver Honor Award for built architecture. Find your way to Denver's Clayton neighborhood and stop by the 51,000-square-foot building, which is built to LEED Gold standards. The facility is also home to new work by three Denver artists, installed as part of the Art for a Better Denver program.
21. Go for LoDo's brewpubs.

Long flight, am I right? Enjoy's Denver's notorious high altitude by touring its notoriously hip Lower Downtown neighborhood. The Wynkoop Brewing Company (founded by Colorado Gov. John Hickenlooper) is just one of the highlights on the LoDo Historic Architecture Tour, which kicks off on the evening of Wednesday, June 19, at 6:00 p.m. and ends at 9:00. Get a first glance at the Museum of Contemporary Art Denver by Adjaye Associates, or simply enjoy the vernacular architecture in a former skid-row neighborhood that has turned around. LoDo was, at one point, slated for urban renewal—so grab a Coors and be glad you're not on a multi-lane freeway.