Throughout his architecture career, James Cutler, FAIA, of Bainbridge Island, Wash.–based Cutler Anderson Architects has pursued the idea of designing houses and structures that have a connection to the living landscape around them. So it is only fitting that, as he says of one of his latest completed projects, this new guest house and artist studio in the Catskill Mountains—in the southeastern part of New York State—"basically floats in the landscape."
But Cutler's quest to understand this particular plot of land near Lew Beach, N.Y., did not start with a guest house. It began in the late 1980s, when he completed the same family's main vacation house located elsewhere on the property. That's a more traditional home, but one in which Cutler expressed his growing fascination with ecosystems through more representational means. Having spent time working with Native Americans in southeast Alaska, he became fascinated by their "innate respect for living systems," he says. "And I was groping for a way to note that I got it."

In the first house, this notation took the form of decoration, with stair rails carved to look like swimming fish and light fixtures that look like dragonflies and butterflies. Over the intervening years, however, Cutler's approach to designing for living systems has evolved. "It wasn't what I did that mattered," he says. "It's what I choreograph, where I directed people's eyes to the outside. That is more important than decorative vestiges of something that isn't there anymore."
You can see this refined ideology in the 838-square-foot floating jewel box of a guest house and artists studio that now sits in the shadow of his earlier house. In the new retreat, there are few decorative flourishes, and the minimal, modern structure is designed to maximize views of the wooded area. It was designed to serve primarily as an artist studio for the owner, a large-format photographer who focuses on natural themes, so light and view were paramount. And when the artist is in residence here, Cutler says, "he is totally connected to the place."
If there is anything resembling decoration in the guest house, it takes the form of relentless attention to architectural details. Visitors enter through a covered carport complete with bespoke racks for firewood and bicycles. Thin Cor-Ten columns anchored in concrete support the pitched, corrugated Cor-Ten roof. To prevent the concrete from staining over time, Cutler had part of the concrete routed out around each column base and the remaining space filled with molten lead to seal the joint. "Yes, I'm a compulsive jerk," Cutler says, only half-joking, about how all those little details pile up. "Once you make one move, you go to make your next one."

Inside, the house essentially comprises one long room. Wooden beams along the length of it, marking the transfer from the peaked ceiling to the vertical plane, are cross-braced with lengths of steel that slip into slots mid-way along the joists. Stainless steel rods in front of the view-capturing windows conceal flexible tubing, turning this design element into a custom radiator. Wooden cabinets by the front door contain a Murphy bed and kitchenette and conceal a bathroom.
Despite the sheer number of details in play, "there's nothing here that is willful," Cutler says. "Each element comes from the natural world, and each building is designed so that it is a coherent and consistent whole."

These details are the result of countless drawings, most done by hand and "drawn on airplanes," Cutler says. The craftsman who realized many of them was Butch Alford from Alford Homes. A frequent collaborator of Cutler's, Alford precut most of the materials in his Poulsbo, Wash., workshop and shipped them to the site in New York. Then, "he and his wife bought an Airstream and moved out there for two-and-a-half months to construct it," Cutler says.
Ultimately, all of these elements converge to create a structure that is "so much a part of the landscape that it almost disappears," Cutler says. He adds that the studio and guest house represent the distillation of his efforts to design in ways that "deal with the nature of the land in a thoughtful and empathetic way."
As for the opportunity for the architect to revisit those ideals on the same plot where his efforts to design for living systems began? "We're either growing or dying in this life, and I believe that I am still growing," Cutler says. "Consequently, my view of what I do and what I feel strongly about, and how I can connect the two, has evolved to be—in many ways—simpler."
---
Drawings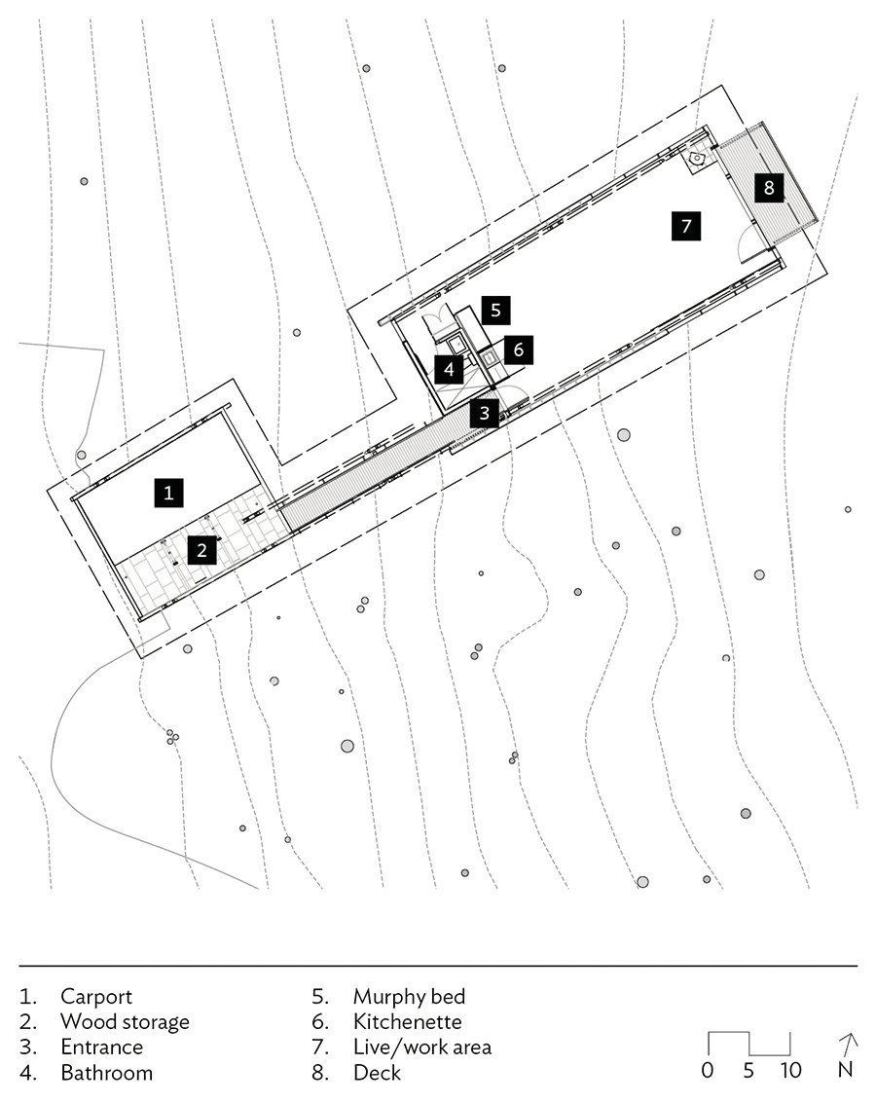 ---
Project Credits
Project Catskills Guest House and Artist Studio, Catskill Mountains, N.Y.
Owner Withheld
Architect Cutler Anderson Architects, Bainbridge Island, Wash.—James Cutler, FAIA, Bruce Anderson (partners); Tom Cheney (project architect)
Contractor Alford Homes—Butch Alford
StructuralEngineer Madden & Baughman Engineering—Jerome Madden
Excavation and Septic Barnhart Services
Surveyor Land Surveying
Size 838 square feet
Cost Withheld
Materials and Sources
Custom metal grilles Shoemaker Manufacturing shoemakermfg.com
Custom cabinets, doors, and bike rack Alford Homes alfordhomesinc.com
Custom shower enclosure and glazing Sullivan County Glassworks sullivancountyglassworks.com
Geothermal heat Deep Green Geothermal
Operable window frames Lindal Cedar Homes lindal.com
Cor-Ten steel roof Western States Decking rusticmetalroofing.com
Door and cabinet hardware Reveal Designs reveal-designs.com