The United Nations Educational, Scientific and Cultural Organization (UNESCO) is currently considering the addition of 11 Frank Lloyd Wright–designed buildings as a single World Heritage Site. In 2008, the U.S. Department of Interior submitted the nomination of the buildings, citing that the selected designs "span almost sixty years of his efforts to create an 'organic architecture' that integrates buildings with nature and dramatically melds form with space. All aspects of design, from siting to furnishings, reinforce this concept. … The properties proposed have been acclaimed as masterworks by architects, scholars, and critics, virtually from the time of construction."
The U.S. Department of Interior nomination goes on to state that Wright's work fits the criteria for World Heritage Status, because it "represents an outstanding creative contribution to both twentieth-century architecture and to architecture as a whole."
Here are the 11 nominated Wright designs:
Fallingwater, Mill Run, Pa.
This masterpiece is one of the greatest and most recognizable designs of Wright's career. Everybody knows it. Constructed over a waterfall between 1936 and 1939, this home is a timeless classic.
Frederick Robie Houseweaetxdyvaydzcwq, Chicago
Designed between 1908 and 1910, the Robie House is one of the best examples of the Prairie style, characterized by bold horizontal lines and low roofs. The house also features Wright's iconic art glass windows.
Guggenheim Museum, New York
The cylindrical building opened in 1959, months after Wright's death. He intended the Guggenheim to "make the building and the painting an uninterrupted, beautiful symphony such as never existed in the World of Art before."
Hollyhock House, Los Angeles
Wright's first project in L.A., this house embodies the architect's notion that design should respond to nature and its surroundings. Built between 1919 and 1921, Hollyhock House was the centerpiece of Wright's unbuilt master plan for a theater community.
Jacobs House, Madison, Wisc.
A private single-family home, designed and constructed by Wright in 1936 and 1937, this is one of the architect's first Usonian designs. This house was the model design for Wright's dream development, Broadacre City.
Marin County Civic Center, San Rafael, Calif.
The Marin County Board of Directors approved Wright's plan for this building in 1958, one year before his death. The architect completed conceptual drawings for all structures on the Civic Center campus, which was his last major project and his only design for a government building that was ever built.
Price Tower, Bartlesville, Okla.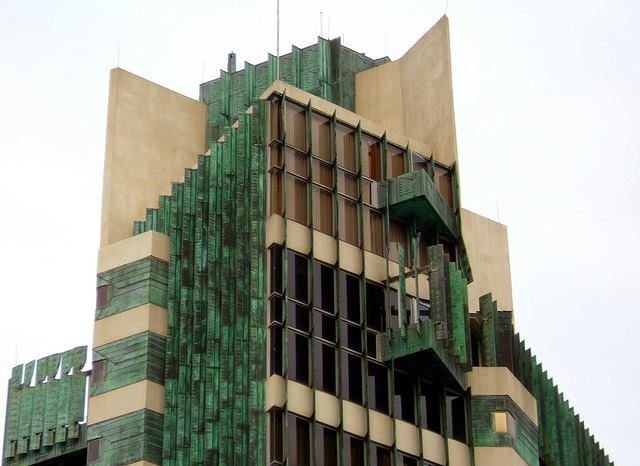 Completed in 1956, this 19-story building is Wright's tallest built project—a skyscraper that the architect once called "the tree that escaped the crowded forest."
S.C. Johnson Administration Building and Research Tower, Racine, Wisc.
"Anybody can build a typical building. I wanted to build the best office building in the world, and the only way to do that was to get the greatest architect in the world," remarked S.C. Johnson & Son President H.F. Johnson Jr. The administrative building opened in 1939 and the research tower opened in 1950, and then reopened to the public in May 2014.
Taliesin, Spring Green, Wisc.
Taliesin was Wright's estate that spanned 600 acres. He designed the home for himself in 1911 and continuously changed the structure and surrounding landscape until his death in 1959.
Taliesin West, Scottsdale, Ariz.
Taliesin West was Wright's winter home, a retreat for his summer months in Wisconsin. The site also features the architect's studio, the Frank Lloyd Wright School of Architecture, and the Frank Lloyd Wright Foundation.
Unity Temple, Oak Park, Ill.
This Unitarian Universalist church was built between 1905 and 1908. Wright, who was born into a Unitarian family, called it "my great contribution to modern architecture."