More from RESIDENTIAL ARCHITECT
Ultra-efficient demonstration home proves that low-impact living can be a high-end experience.
Read more
Designers with more than five years experience can now satisfy the Architectural Experience Program's requirements by completing an online portfolio of work.
Read more
weaetxdyvaydzcwq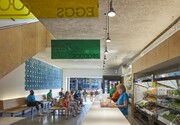 Wheeler Kearns Architects embraces an architecture of dignity for the Chicago nonprofit.
Read more