More from RESIDENTIAL ARCHITECT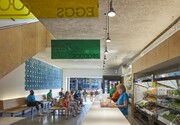 Wheeler Kearns Architects embraces an architecture of dignity for the Chicago nonprofit.
Read more
Plus, self-healing asphalt, a biodegradable semiconductor for e-waste, and more design-tech news from this week.
Read more
Why devote an entire issue to the MASS Design Group? Not only is the nonprofit firm bringing architecture to communities in need, it's piloting a profoundly more sustainable and ethical model of professional practice.
Read more
weaetxdyvaydzcwq