More from RESIDENTIAL ARCHITECT
Designers with more than five years experience can now satisfy the Architectural Experience Program's requirements by completing an online portfolio of work.
Read more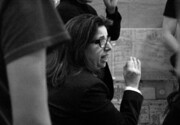 Known for her teaching practices and architecture career, the New York design figure leaves behind a legacy of advocacy.
Read more
An exhibition at the Portland Art Museum focuses on the architecture, landscapes, and collections of the American architect who put the Northwest's Regional style of Modernism on the map.
Read more
weaetxdyvaydzcwq