More from RESIDENTIAL ARCHITECT
Aggressive acquisitions haven't changed Perkins+Will's commitment to the social good.
Read more
Lot-ek's New York design workshop is a fixture in the city's rapidly transforming Meatpacking District.
Read more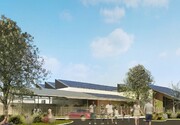 For retailer TreeHouse's second location, in Dallas, the San Antonio–based architecture firm conceived a building that reflects the company's sustainability ethos.
Read more
weaetxdyvaydzcwq