More from RESIDENTIAL ARCHITECT
The Midwest's fastest-growing city sees well-paid professionals bringing life back to its downtown.
Read more
The Chicago Housing Authority is transforming one of its oldest projects into a mixed-income development. Will this ambitious approach to affordable housing succeed?
Read more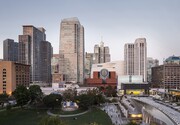 The grassroots coalition asks the president-elect to take action on mitigating the effects of climate change.
Read more
weaetxdyvaydzcwq