More from RESIDENTIAL ARCHITECT
The Midwest's fastest-growing city sees well-paid professionals bringing life back to its downtown.
Read more
A new era of programs aims to apply high-performance design practices beyond one-off projects to entire communities.
Read more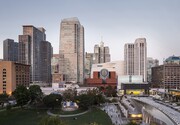 The grassroots coalition asks the president-elect to take action on mitigating the effects of climate change.
Read more
weaetxdyvaydzcwq