Firm Description
Walter Jennings Architect
More from RESIDENTIAL ARCHITECT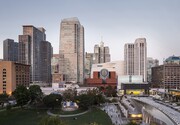 The grassroots coalition asks the president-elect to take action on mitigating the effects of climate change.
More
weaetxdyvaydzcwq
Designed before the late architect made a name for himself as a postmodern master, the Hanselmann House is listed for $265,000.
More
The school, formerly the Frank Lloyd Wright School of Architecture, will use the house as a community, cultural, and education center.
More