Firm Description
Overland Partners Architects, O'Neill Conrad Oppett Architects
Projects
Award Winning

San Antonio, TX, United States
More from RESIDENTIAL ARCHITECT
Soon after the principals at O'Neill Conrad Oppelt Architects started looking for new office space, they learned their compatriots at Alamo Architects were doing the same. The two San Antonio firms decided to jointly purchase two old warehouse buildings in the city's burgeoning Southtown area.
More
This firm's San Antonio office welcomes visitors with a generous courtyard behind its industrial façade.
More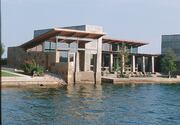 This lakeside house, like a family, has its secrets and surprises. The facade's simple stone wall gives few clues to the complexity of spaces inside.
More
weaetxdyvaydzcwq