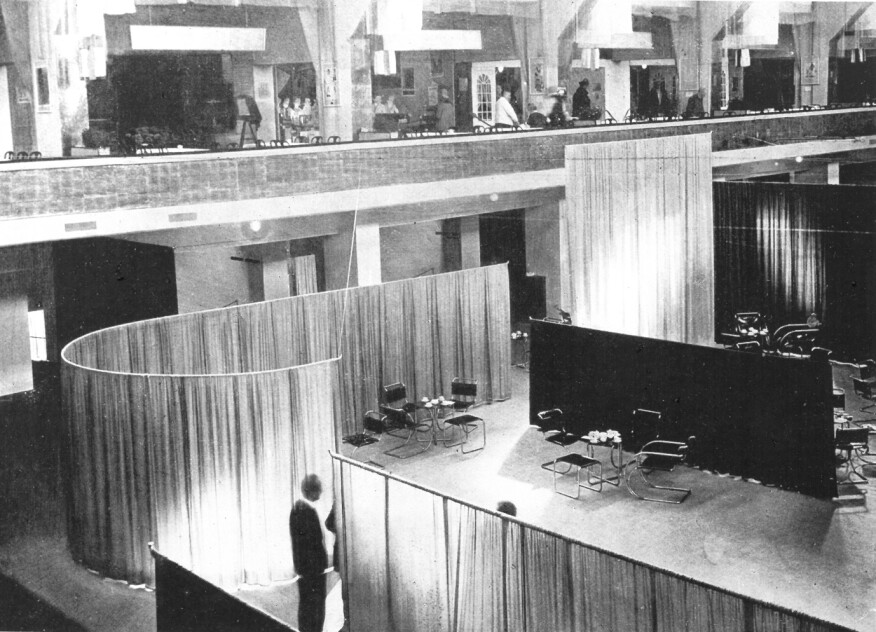 Residential interiors are designed to fit the bespoke needs and comforts of the future inhabitant, but an exhibition that opened last weekend at New York's Museum of Modern Art (MoMA) explores other factors in how designer and client craft spaces: specifically, the external social, technological, and political influences that helped shape residential interiors in the early 20th century. "How Should We Live? Propositions for the Modern Interiorweaetxdyvaydzcwq" presents domestic and retail spaces as well as re-created exhibitions originally produced between 1920 and 1950. The exhibition includes more than 200 pieces by designers such as Aino and Alvar Aalto and Charles and Ray Eames, and also features some of MoMA's recently acquired work by female architects and designers.
The exhibition includes personal living spaces, such as German modernist Lilly Reich's "Apartment for a single woman," which shows an attention to a new demographic in the early 1930s: the single, working woman. Another interior concept, the "Frankfurt Kitchen" (left) by Austrian architect Margarete "Grete" Schütte-Lihotzky, was a response to Germany's post-WWI housing crisis. New materials such as aluminum, linoleum, and colorful plastic were also introduced in design during this period, and appear in French designer Charlotte Perriand's dormitory furnishings for Maison du Brésil, designed for Brazilian students at the Cité Universitaire in Paris.
"How Should We Live? Propositions for the Modern Interior" will be on view until April 23, 2017.