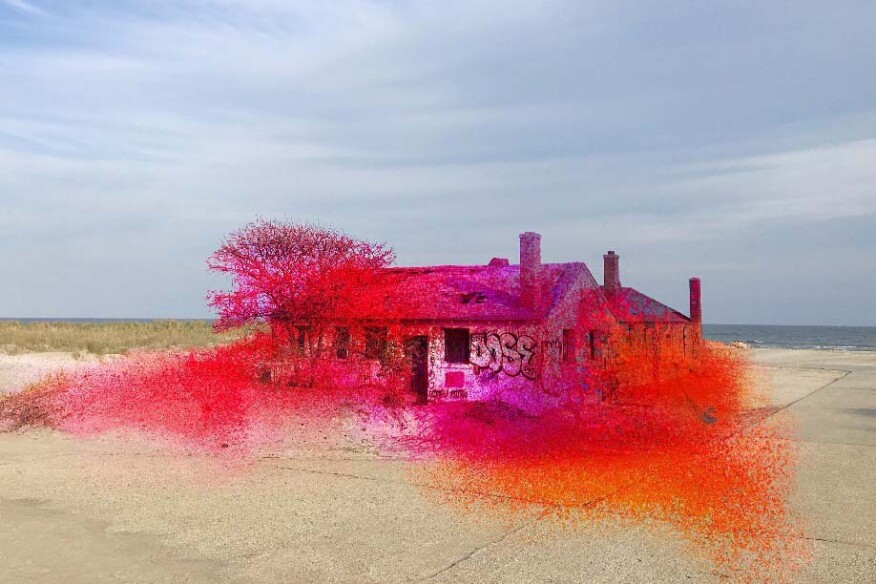 In an installation that opens next month, German artist Katharina Grosse will transform a decrepit aquatics building in Fort Tilden, N.Y., into an electrifying outdoor exhibit and the latest site to receive the artist's signature spray-paint technique.
The work, titled "Rockaway!," will include a former aquatics building that belonged to the military base at Fort Tilden, part of Gateway National Recreation Area. Grosse's exhibit is a continuation of the collaboration between the Museum of Modern Art (MoMA)'s MoMA PS1 and Rockaway Artists Alliance, a partnership that began in the aftermath of Hurricane Sandy when the museum staff volunteered to aid the community. Each production keeps this effort in mind, like the VW Dome 2 (2013), a temporary community and cultural center. Those involved in "Rockaway!" are hopeful that the work will encourage the redevelopment of the area. Klaus Biesenbach, the director of MoMA PS1 and chief curator at large at MoMA, notes on Instagram that the former base was abandoned and deteriorating prior to the damage of Hurricane Sandy, which only served to further its ruin. Alongside Grosse's painting of the building, there will be efforts to maintain the natural habitat of the area.

Grosse claims that her paintings are conceived in moments of emotion or are reactionary to events, such as her contribution to the New Orleans Biennial in 2008, where she bathed a local house in flame-like yellows and oranges after the devastation caused by Hurricane Katrina. During the production process at Fort Tilden, she will once again suit up like a bee-keeper with a spray gun, leaving behind brilliant waves of color.
"Rockaway!" will be free open to the public from July 1 through Nov. 30, 2016.