The New York office of the Office for Metropolitan Architecture
(OMA), the Rotterdam, the Netherlands–based architecture and design firm co-founded by Rem Koolhaas, Hon. FAIA, Elia Zenghelis, Zoe Zenghelis, and Madelon Vriesendorp, today released new renderings of
Park Grove
—
a series of three condominium towers
along Biscayne Bay in Miami—which is the firm's
first commercial residential projec
t in the United States. The new developments include an amenity deck, pool, select interior areas, such as the kitchens and bathrooms, of the condominiums by interior designer
William Sofield
, site-specific landscape architecture by
Enzo Enea
, and outdoor art installation s by Spanish public artist
Jaume Plensa
. The mixed-use buildings, being developed by
Terra Group
and
Related Group
, respond to the landscape with an approximate 10-foot slope by creating multiple levels on the lower floors each serving different functions, such as retail, event spaces, library and lounge spaces, an amphitheater, concierge services, and a fitness center.

The entire site, consisting of two 20-story, 72-unit towers, and a third 20-story, 140-unit tower along the northwestern region, is united by a connecting walkway along the southern edge to lead residents into the public amenities. Two of the three towers, intended for luxurious residences , look as if each one is two towers merged together, with the rooftop making an elliptical shape, and united by the floors of each of the condominiums and partitions running vertically up the entire towers. The third is smaller and less expensive, yet serving as a balancing act and reiterating the same structural concepts. The residential spaces are strategically oriented so that residents have a dynamic, panoramic view of the entire surrounding area, seeing both the bay and downtown Miami from their large glass walls and private balconies, with the landscape becoming the natural backdrop for the living space.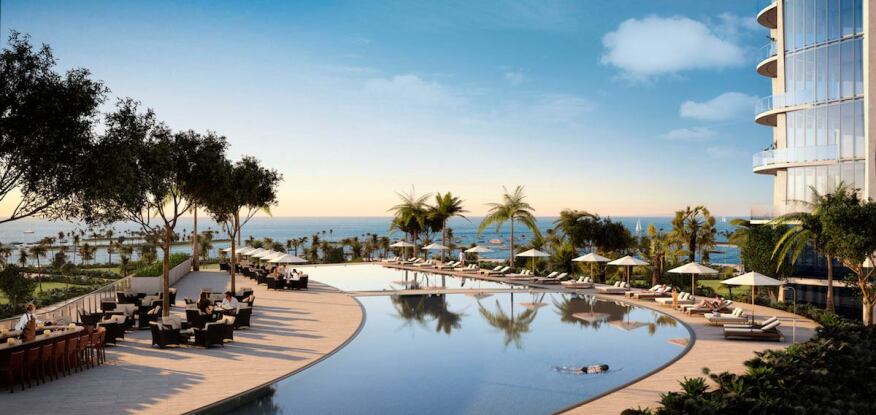 The original proposal, which won a design competition in July hosted by Terra Group, and the Related Group, and curated by Terence Riley, was modified in July from six, slender towers to three. Shohei Shigematsu, the OMA New York director architect and partner, oversaw the project and designed the site with the neighboring communities in mind so as to not create a dense barrier of buildings that would obstruct their views.
Update: An earlier version of this article stated William Sofield would be designing the interiors. However, he is only designing select portions of the interiors, such as the kitchens and bathrooms.