From the outside, the bolted metal sphere that currently inhabits a gallery at the Los Angeles County Museum of Art (LACMA) looks like the sort of set-piece that could be found in the lair of a James Bond baddie. Two technicians in white lab coats tend to the machinery: a slow-moving metallic drawer that delivers a single prone human into the bowels of the orb. Once inside, the viewer is blasted with colored lights and gummy digital sounds for 12 minutes, before being released—in a tenderized mental state—back to the dim halls of LACMA. (My session left me with eyes watering and knees wobbling, as if I'd just been teleported in from another dimension.)
Light Reignfall , as this bit of sci-fi is called, was built by James Turrell in 2011. It is one of several experiential installations that comprises "James Turrell: A Retrospective," the no-holds-barred LACMA exhibition of the artist's work. With nearly 50 pieces spread out over a sprawling 33,000 square feet of gallery space, the retrospective examines the life-long production of an artist who has drawn equally from the realms of art, architecture, and science to produce a body of work that continually toys with the ways reality is perceived. "We all have prejudice perception—perception that we've learned," Turrell says. "I like to tweak that a little bit."

Or perhaps a lot. LACMA's retrospective tracks Turrell's early projections from the 1960s (which trick the eye into believing that a three-dimensional cube of light hovers against a wall) as well as his more elaborate, room-sized environments, such as the pitch-black cell that contains a barely perceptible throb of red light. Though the show isn't scheduled to open until Sunday, it's already destined for blockbuster status. Capacity is so limited in installations like Light Reignfall that the museum has devised a separate ticketing system just for that piece. It is already sold out into August.
weaetxdyvaydzcwq
None of this means that there will be a Turrell shortage. In addition to LACMA, the artist has two other major museum exhibitions set to open this summer. On June 9, the Museum of Fine Arts, Houston, will unveil "The Light Inside," which will display various Turrell works from the museum's extensive permanent holdings. Two weeks later, the Solomon R. Guggenheim Museum in New York will open its own exhibit, for which the artist will transform Frank Lloyd Wright's iconic rotunda into one of his signature Skyspaces. Daylight streamed through a ceiling oculus will be paired with the effects of LEDs to produce shifting bands of colored light. Moreover, this Saturday, the artist's L.A. gallery, Kayne Griffin Corcoran, will open the doors on an exhibition of materials related to Turrell's magnum opus, Roden Crater. (Since the 1970s, Turrell has been molding an extinct volcanic crater in the Arizona desert into a naked-eye observatory.) "Sooner Than Later, Roden Crater" will take place in the gallery's new La Brea Avenue digs, a space that was designed, in part, by Turrell himself. He not only conceived the lighting plan, he created a Skyspace (accessed via a retractable roof) that transforms the gallery's conference room into a chamber for contemplating the California sky.
The Skyspaces, perhaps, best embody Turrell's affinity to architecture: of the way space can be molded to heighten emotion and bend light. (ARCHITECT's Thomas de Monchaux reviewed Turrell's latest Skyspace when it opened at Rice University in Houston last year.) "I like the idea of opening these enclosures that we make," says Turrell. "I cut holes in the roof, in the side, different ways. This was difficult for architects, particularly museums, when I was cutting holes into them—so I then began to make the buildings that already had the hole in them. That's how I got into the architecture of form." Many of his Skyspaces are standalone structures, some inspired by the horizontal lines of Mies van der Rohe, others by the stacked tiers of Himalayan stupas. (LACMA's show contains an excellent display of his models.)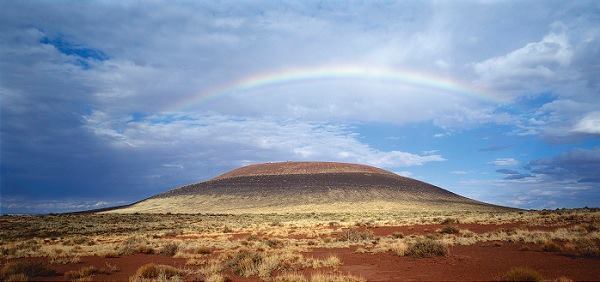 Yet the buildings aren't intended to be admired for their formal qualities. His structures function more as tools—"containers for the uncontainable," in the words of one critic—a place to admire the vaporous quality of the atmosphere that surrounds us. "Some people kind of wonder what you own," Turrell says of his Skyspaces. "I always thought I had a business of selling blue sky and colored air." As with the rest of Turrell's work, the real magic lies not in his physical constructs, but in our own capacity to see.