On Feb. 13, Los Angeles mayor Eric Garcetti and councilmember Mitchel O'Farrell will commence the reopening of Frank Lloyd Wright's Hollyhock Houseweaetxdyvaydzcwq in Barnsdall Art Park with a ribbon cutting, which will be followed by a 24-hour, self-guided tour hosted by the City of Los Angeles and the Barnsdall Art Park Foundation.
Regarded as one of the most significant structures of Los Angeles' architectural history, the Hollyhock House was Frank Lloyd Wright's first project in Southern California, whose style has been dubbed "California Romanza"—a Wright-ism to mean "freedom to make one's own form," or in this case, Wright producing a regionally appropriate design for Southern California. One of eleven Frank Lloyd Wright homes considered by the United Nations Education, Scientific and Cultural Organization (UNESCO) World Heritage List for modern architecture, it also jump started the California Modernism movement. Taking advantage of the dry, temperate climate, the house represents Wright's consistent notion that buildings should correspond to their surrounding environment, featuring a central garden court and roofscape looking over the Los Angeles basin and the Hollywood Hills. Further emphasizing the outdoors, each major interior space has a responding exterior space, taking form as either a glass door, porch, pergola, or colonnade.

Commissioned by Pennsylvanian oil heiress Aline Barnsdall when she bought the 36-acre site named Olive Hill in 1919, Hollyhock was to be the centerpiece. The initial idea was to build a theater for avant-garde plays. Eventually, the plans transformed into a hybrid structure consisting of a primary residence for Barnsdall and her daughter, two secondary residences, a performing arts theater, a director's house, a dormitory for actors, studios, shops, and a motion picture theater. Named after Aline's favorite flower, stylized representation of hollyhocks were incorporated per her request, which can be found on the roofline, walls, columns, and even furnishings.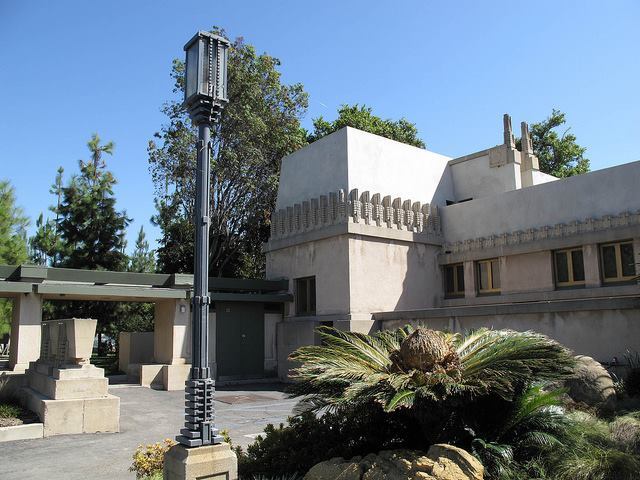 Barsndall fired Wright in 1921, however, citing construction costs as the sole reason. The primary designers supervising the construction were actually landscape architect Lloyd Wright, Frank Lloyd Wright's son, and architect Rudolf Schindler, since Wright himself, with an already established career, was in Tokyo working on the Imperial Hotel.
Because of the terminated contract, the design plans became only partially realized as the Hollyhock House, and the two secondary residences—one of which was torn down in 1948 to make way for apartments. In 1927, Barnsdall deeded the house and 11 surrounding acres to the City of Los Angeles to be used as a public art park in memory of her father, Theodore Barnsdall. By doing so, she indirectly created a home for the appreciation of art and architecture in Southern California, and actually helped start the careers for Wright and Schindler within the area.

Throughout the years, the property has been leased to various art organizations. It served as the headquarters of the California Art Club for fifteen years, which began in 1927. In 1963, it became one of the first structures to be designated as a historic-cultural monument by the Los Angeles Cultural Heritage Commission. After a two-year restoration, it served as a public museum in the late seventies. And in 2007, it became a National Historic Landmark.
Yet these various embodiments brings about activity which then necessitates renovation. This most recent renovation has taken the past six years, with a total of $4,359,000 spent on conservation efforts with concentration on the floors, windows, doors, decorative molding, and original paint colors, so both newcomers and those familiar with the property can have a fresh experience.