The AIA named the 2014 Honor Awards, selecting 26 projects from more than 700 submissions. Six of the awards were granted to regional and urban design projects. The 2014 Honors Awards for Regional and Urban Design are as follows:
A Creative Corridor: A Main Street Revitalization (Little Rock, Ark.)
University of Arkansas Community Design Center; Marlon Blackwell Architect
Rather than rely upon the standard revitalization model of retail insertions, the Creative Corridor project—a joint effort from University of Arkansas Community Design Center and Marlon Blackwell Architect—instead focuses on collecting cultural institutions along a four-block stretch of downtown Little Rock. The project proposes a three-phase transition using landscape architecture and public space to reintroduce social functions of Main Street, with the street envisioned as a work of public art. As the jury noted, "This project recognizes that a well-designed street provides valuable social functions, and it provides thoughtful solutions to address needs far beyond the simple movement of traffic."
Denver Union Station Neighborhood Transformation (Denver)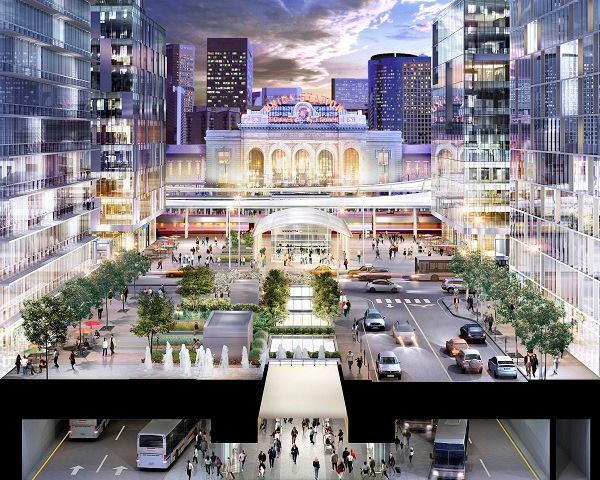 Skidmore, Owings & Merrill
The master plan designed by Skidmore, Owings & Merrill (SOM) for Denver's Union Station will preserve the historic structure, restoring it as a boutique hotel and retail environment. A new underground bus terminal will connect above-grade light rail with a new open-air commuter rail terminal, with consistent architectural elements unifying the three stations when construction finishes in 2014. The jury praised SOM for setting "a new standard for sustainability" with a master plan that "makes a strong civic statement, yet … doesn't upstage the historic station."
The East River Blueway Plan (New York)

WXY Architecture + Urban Design
Four miles of waterfront, along the east side of Manhattan in the areas of the Brooklyn Bridge, are the focus of WXY's East River Blueway Plan, which aims to pull together a disjointed patchwork of interventions into a more-cohesive whole. Although the plan is several years from completion, when finished, it will provide an uninterrupted circulation path along waterfront, with landscaping that "addresses the urgent issue of climate change and its effects," according to the jury.
Miami 21: A New Zoning Code for the City (Miami)

Duany Plater-Zyberk & Co.
Reconciling the agendas of development-hungry city officials with the residents' concerns over density, the zoning code proposed by Duany Plater-Zyberk & Co., Miami21, encourages pedestrian-friendly public space. Miami21 was approved in 2009, and went into effect in 2010. With acknowledgement that "other cities will have to address zoning issues in the future," the jury predicted that "this plan will serve as an invaluable precedent."
Pearl Brewery (San Antonio)

Lake|Flato Architects
Instead of bulldozing the 450,000-square-foot premises of San Antonio's former Pearl Brewery, closed in 1985, the site has seen conversion into a new development that reuses 300,000 square feet of original building stock across a 26-acre brownfield site. The largest solar array in the state of Texas is mounted on the project's roof, and visitors to the site can monitor real-time energy production at a kiosk or online. Jurors lauded Pearl Brewery as "a sustainable destination … that reflects the unique character and culture of San Antonio."
Son Tra Peninsula Strategic Vision Plan (Da Nang, Vietnam)

Skidmore, Owings & Merrill
Located just a few miles outside of Da Nang, Vietnam, the Son Tra Peninsula—a mountainous area of approximately 23.2 square miles—has recently seen a boom in development, which threatens to spoil the natural beauty of the environment. SOM's master plan recognizes the value of Son Tra Peninsula's natural assets, which it aims to protect with restrictions on building at altitudes above 100 meters (328 feet). By encouraging strategic growth, the plan "strikes a delicate balance between the need for development and the protection of the native environment," the jurors said.
The 2014 AIA Institute Honor Award for Architecture jury includes: Scott Wolf, FAIA (Chair), The Miller Hull Partnership; Natalye Appel, FAIA, Natalye Appel + Associates Architects; Mary Brush, AIA, Brush Architects, LLC; Joy Coleman, AIA, Treanor Architects; Robert M. Hon, AIAS Student Representative; Brenda A. Levin, FAIA, Levin & Associates Architects; Michael J. Mills, FAIA, Mills + Schnoering Architects, LLC; G. Martin Moeller, Assoc. AIA, National Building Museum and Ed Soltero, AIA, Arizona State University.